Keep an accurate record of what goes on in court with transcription services from our staff. Our team is available for everything from court hearings to conferences to meet your needs.
Our videography services use high-tech equipment to record depositions, court hearings, court playbacks, conferences, and day-in-life videos. We use your choice of high-quality video tape, CD, or DVD to record footage anywhere in the country.
Interpreting services are available to help you overcome language barriers. We have licensed, court-appointed interpreters for every language.
In addition to court reporting, recording, and interpretation, Court Reporters ETCetera, Inc., provides process serving throughout the state of Maryland and Washington, DC. We serve all legal documents in a timely manner but only within DC and Maryland.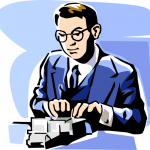 Certified Court Reporters
Maintain exact records with court reporting services from Court Reporters ETCetera, Inc. We offer accurate transcription services for depositions, court hearings, conferences, arbitrations, or whatever you need. Contact us in Baltimore, Maryland, for details.
Court Reporters ETCetera, Inc., aims to be your source for complete transcription and recording solutions. So, in addition to court reporting, we provide process serving, audio transcription, interpreting, and videography services for your convenience.
The registered and certified court reporters at Court Reporters ETCetera, Inc., have more than 10 years of experience each and are available on a nationwide scale.
Our real time reporters are able to produce rush transcripts with accuracy, producing them right before your eyes. This service is perfect for captioning and dictation for the hearing impaired.
Benefits of Choosing Us:
• Coverage Anywhere in the Country
• Consistent Pricing
• Quality Proofread Transcripts
• No Cash on Delivery Charges after Your First Order
• Access to Conference Rooms Nationwide